Facilities
The Art & Design Department has over 17,000 square feet of space dedicated to creating all types work. Students have access to 9,500 square feet of studio space, 5,000 square feet of photography space, and 2,500 square feet of graphic design rooms, as well as the resource areas listed below.

Art & Design Photography/Video Lab and Studios
The 1500 square feet Photo/Video Lab includes two large professional shooting studios, wet darkroom facilities, and a dedicated computer lab for digital photography, printing and video editing. The Lab has a variety of scanning and printing options, a vast array of photography/video cameras, lenses, lighting tools and accessories, sound recording gear, video editing bays and a HTC Vive Virtual Reality space. Equipment includes Profoto lighting systems (including battery powered B1s) and a variety of modifiers, 2 product tables, 2 Mamiya medium format digital cameras with Leaf digital backs, 4x5 cameras with digital backs, 4K video cameras, Omni 360 video rig, gimbals, jib, 7" 4K ikan monitors and more. The Photo/Video computer lab features new Apple iMacs with extra tools such as CaptureOne. 
The facilities are available to students 8 am - 5 pm as well as after hours for advanced students. 
Michael Aponte
Photography/Video Tech
Building: 34 - 222
Phone: 805.756.2086
Email: photolab@calpoly.edu
Art & Design Studio Labs and Shops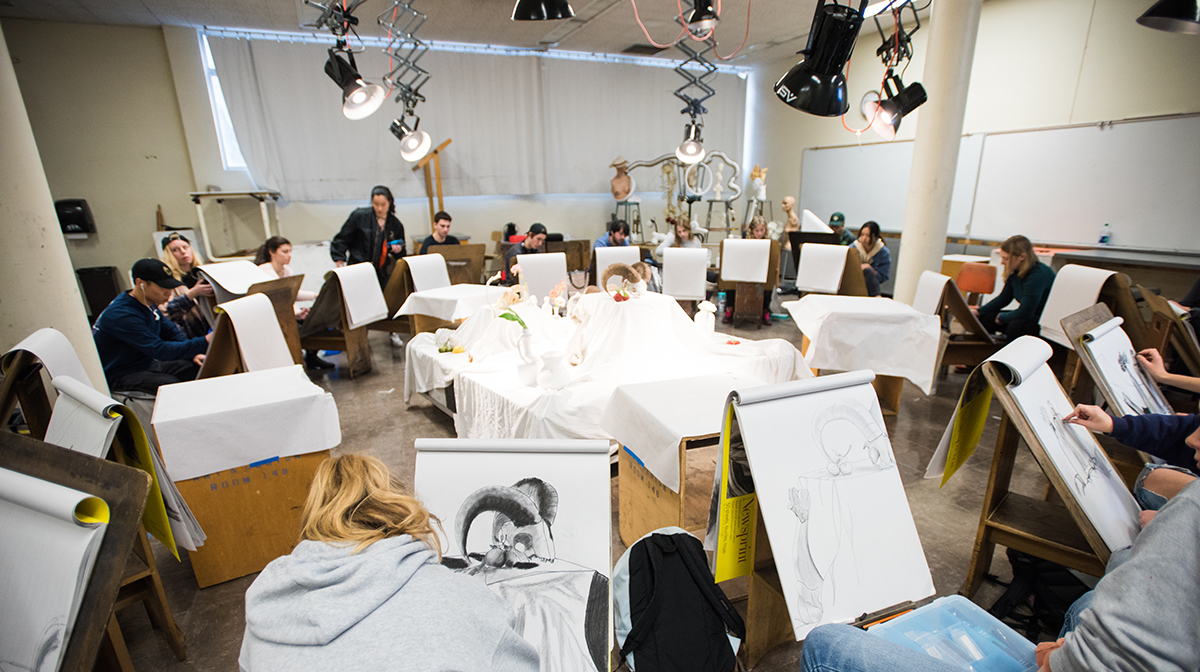 2D Labs:
The Studio area has two separate 2-D labs, one for painting and one for drawing. Each has 24-7 access for art students each quarter. This allows students to work after hours and on weekends. Both studios have natural light, as well as accessible artificial spotlights for multi-day still-life projects. 
 
Woodshop: 
Cal Poly has a fully equipped woodshop for student use. This is where students take 3D design as well as all sculpture and 4D courses.  All students in the Art and Design Department learn how to safely and properly use equipment for their projects. 
Sculpture Yard and Ceramics:
The 3D area has an outdoor sculpture yard with student work stations, as well as welding equipment. The sculpture yard is also where the kilns for ceramics are housed. The Ceramics lab is filled with natural light and space for students to explore clay. Classes learn to work with potter wheels, as well as the art of glazing and firing their work. The days that the sculpture area is open for student use can be found here.
The Project Room:
The project room is a space designated for student use during the academic year. This space is often used to critique work, and for students to construct installations or show time-based media. The room can be reserved by students for any kind of art project, or for putting on their own art shows. 
 
Senior Studio:
Senior year each studio major is given their own individual studio space in the Senior Studio Lab. Students are given a key to the lab in the fall, and will have 24-7 access to the space for their entire senior year. This allows students to continue to develop their work with more privacy, and enables them to leave out their supplies for multiple days. Most importantly, the senior studios foster a sense of community within each graduating class, and allows students more ownership and autonomy over their individual practice as they work towards their senior show. 
Art & Design Computer Lab
The Computer Lab is available for students during school hours, as well for after hour and weekend access with individual key cards.  The lab is configured with twenty three Apple iMacs, running industry-standard software for design:  Adobe Creative Cloud, as well as other tools such as Microsoft Office, Final Cut Pro X, Maya, and more.  The Lab also has a variety of scanning and printing options, including a laser tabloid printer and inkjet photographic printers.
TBA
Graphic Design Tech
Phone:
Building:
Email:
Art & Design Resource Center
The Art & Design Resource Center (ADRC) is available for student use and contains computers, a collection books and periodicals (available online at adrc.libib.com), and tools and supplies for projects. The ADRC also provides students with a quiet place to work. Resources include:
Graphic printer: 

Ricoh C831DN Tabloid 

Photographic printer: Canon Image ProGraf PRO-2000
Flat-bed scanners: Epson 10000XL large format & V600
Video editing station
Pantone Color Guides: Reference Guides, 

Solid Chips, Formula Guide, Solid in Hexachrome, Color Bridge, and more.

Paper product samples: Various styles, weights, and manufacturer examples.
Supplies and equipment:

Large self-healing cutting top, paper cutters, hole punchers, T-squares, and more.

Professional and educational information: 

Graduate schools and programs, summer programs, workshops, and so on.

Art & Design Visual Resources Center
The Visual Resources Center (VRC) supports the instructional needs of the Art and Design Department's faculty and students. The VRC provides high-quality digital images and metadata, of works of art from prehistory to the present, for teaching, research and study. While the VRC primarily serves the Art & Design curriculum, the Cal Poly community may access our developing digital collection via the Artstor database located on the Kennedy Library's Web site here.
Sheryl Frisch
Visual Resources Specialist
Phone: 805.756.2078
Building: 34 - 141
Email: sfrisch@calpoly.edu
Related Content